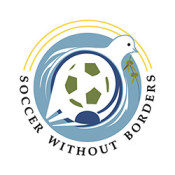 Primary Area of Impact: Education
Geographic Areas Served: United States, Uganda, Nicaragua, Guatemala, El Salvador, Egypt
Year Founded: 2006
Overview
Soccer Without Borders uses soccer as a vehicle for positive change, providing newcomer refugee, asylee, and immigrant youth with a toolkit to overcome obstacles to growth, inclusion, and personal success.
Social Challenge
Around the world, almost 60 million have been displaced by conflict and persecution. Nearly 20 million of them are refugees, and more than half are children. The United States has the largest resettlement program in the world, accepting nearly 80,000 refugees through the UNHCR program in 2014 alone, more than all other resettlement countries combined. Almost half of these were youth, with the vast majority experiencing stress and trauma due to exposure to war, deprivation, and violence. Resettlement in the U.S. offers a respite from the extremity of the past but brings with it the new challenge of integration, including academic difficulties, language acquisition, social isolation, negative peer pressure, grief and bereavement, discrimination, cultural misunderstanding, and adjustment to a new educational system.
This struggle is reflected in many ways, one of the most pronounced being their high school graduation rates. According to the U.S. Department of Education, limited English proficiency students (ie. the majority of newcomers) have one of the lowest high school graduation rates of any demographic group, lower than both African American and Native American youth. Further, associated psycho-social stress can hinder refugee children's ability to learn English, perform adequately in school, and develop peer support networks.
Soccer Without Borders (SWB) addresses the high school dropout crisis amongst refugee and immigrant youth in the USA. In Oakland, where SWB began, the graduation rate is just 52%. Across the bay in a more affluent San Francisco, that rate rises to a mere 65%. Newcomer youth are a vulnerable population across America, graduating at an average rate of 58%. Limited English proficiency and interrupted schooling in their home countries and countries of asylum make it difficult for newcomers to understand the culture of school in America. At home, many must work to support their families. Socially, they face pressure to assimilate into the urban youth culture. When newcomer youth drop out of school, their options become extremely limited. Most work low wage jobs and fall into the cycle of urban poverty.

Accomplishments
97% of SWB seniors graduated from high school in the most recent school year, compared to a national average of 58% for youth with limited English proficiency. Overall, SWB maintains a 95% high school graduation rate among regular participants, with 92% progressing on to college.
While 70% of kids in the U.S. drop out of sport by the age of 13 (National Alliance for Sports) in 2014 our retention rate was 80% among youth ages 10-20.
Regular participants of SWB have access to CDC recommended levels of moderate-to-vigorous activity for at least 70% of the year by coming to SWB alone.
Youth in mentoring relationships for 12+ months have been found to have improved self-confidence, are less likely to drop out of school, have improved attitudes about their future, and improved psychosocial and behavioral outcomes. In 2014, the average SWB head coach tenure was 40.2 months.
88% of youth reported that because of coming to SWB they knew more about how to be healthy and made healthier choices, while 96% reported making a new friend and 91% said they were more comfortable around people who were different than them because of SWB participation.
In 2014, 486 volunteers gave more than 19,000 hours of their time as coaches, mentors, tutors, drivers, and interns, a value of nearly $400,000.
Finalist for the Beyond Sport Award for Social Inclusion.
Champion of Change by the White House for World Refugee Day
Community MVP award from the New England Revolution of Major League Soccer.
Finalist for the Open IDEO Challenge for Refugee Education in East Africa
Winner of the Nike Girl Effect Challenge
4,300 pieces of soccer equipment donated by supporters and delivered to youth in SWB communities around the world.
Held 180 community events bringing together thousands of community members to celebrate and raise awareness of local and global initiatives like the International Day of Peace, International Women's Day, and World Refugee Day.