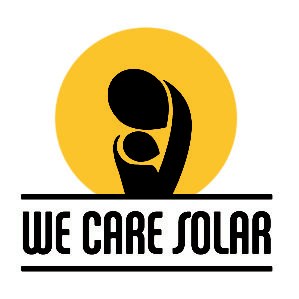 Primary Area of Impact: Healthcare
Geographic Areas: More than 20 countries; 15 located in Africa and Asia
Year Founded: 2011
Overview
We Care Solar designs and deploys complete solar electric kits – called Solar Suitcases – to maternal health centers. Solar Suitcases provide medical lighting and essential electricity – lighting up rooms, charging cell phones, and providing electronic fetal heart rate monitoring. These essential components of effective, around-the-clock emergency obstetric care are delivered to last-mile health
centers around the world to ensure that no woman dies during childbirth.
Our We Care Solar Suitcases are designed to be safe, robust and efficient in powering:
critical obstetric and surgical lighting

mobile phones

fetal heart rate monitors and essential medical devices
Our portable suitcase-size system is immediately operational. It can be used as a mobile system or mounted permanently and expanded to power computers and other devices.
We Care Solar Suitcases can make the difference between life and death by:
Reducing delays in care

Increasing medical and surgical procedure safety

Increasing the capacity to care for mothers and newborns
Social Challenge
Pregnancy complications claim the lives of 303,000 women and over a million newborns each year. The absence of a stable source of electricity remains a crucial factor contributing to high maternal and newborn mortality rates in low-income countries.
We work in remote areas in Africa and Asia where more than one billion people live without access to modern electricity. The World Health Organization reported that only 28% of health facilities and 34% of hospitals had an intermittent supply of electricity in 11 countries in sub-Saharan Africa. One in four health facilities had no electricity at all.
The consequences can be tragic – particularly for maternal-child healthcare. Health workers struggle at night by kerosene lantern or candlelight, unable to detect life-threatening conditions or provide essential services.
Life-saving medical procedures, including cesarean sections, can be postponed or canceled. Midwives may be unable to adequately assess newborns for complications, birth defects, or asphyxia. They cannot use essential medical devices, or make phone calls for emergency referrals. Critically ill patients have turned away from hospitals lacking electricity, and we have heard numerous accounts of expectant mothers who have died after being sent away. Mothers and newborns in the developing world die every day giving birth in badly lit or unlit and unsafe conditions.
Accomplishments
2,464 Solar Suitcases have been delivered to almost 2,400 health centers in 30 countries. The most extensive programs are in Ethiopia, Sierra Leone, Liberia, Nigeria, Tanzania, Uganda, Nepal and the Philippines.
We Care Solar programs have reached more than 936,714 mothers and newborns.
We Care Solar has trained 9,758 health workers to use the Solar Suitcases through an interactive training program that ensures proper usage and maintenance.
More than 500 technicians have been trained in the installation and maintenance of the Solar Suitcase.
We Care Solar has provided more than five million hours of nighttime medical lighting.
30,000 tons of carbon dioxide emissions have been averted by replacing fossil fuel sources of light and electricity with our solar electric systems.