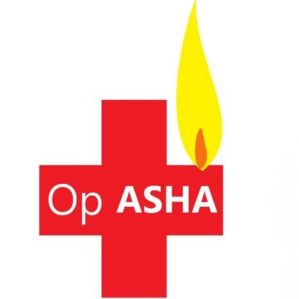 Primary Area of Impact: Healthcare
Geographic Areas: India, Cambodia, Dominic Republic, United States, South Africa
Year Founded: 2006
Overview
Operation ASHA's primary beneficiaries are Tuberculosis (TB) patients amongst the poorest of the poor, living in slums, villages, or hard to reach tribal areas. These are people where malnutrition, poverty, overcrowding, and poor housing all compound the TB problem. Some of these live in absolute poverty as defined by the World Bank, earning less than $1.25 per day. The tribals are the most marginalized of all. These are communities where starvation deaths have been reported, and TB prevalence is 8 times higher than in the general population. Poor education amongst our beneficiaries is responsible for myths and stigma and gender inequalities.
Social Challenge
Though fully curable, Tuberculosis (TB) is the biggest health crisis in the world. 10.4 million people fall sick ill with TB annually, and 1.8 million die each year. 1 million children worldwide contract TB each year and 170,000 children lose their lives. Over 95% of TB deaths occur in Low and Middle-Income Countries. TB was declared as a global emergency in 2009 by WHO. Unfortunately, the enormity of the problem is yet to be understood by global leaders. The disease has now spread beyond developing countries. Due to global travel and immigration, TB has staged a comeback in the west, from where it had been eradicated.
It is estimated that the world will lose over US$3.4 trillion because of TB in the next decade In 2008, 11000 business leaders met at the World Economic Forum's Summit at Davos and stated that they expected TB to adversely impact businesses in the next 5 years, with 10% expecting a serious impact.
TB is not just a disease, it's a socio-economic problem. Entire families sink into poverty when patients are thrown out of jobs. The stigma associated with the disease leads to terrible deprivation and violation of human rights. TB patients are often the poorest of the poor, living in villages or slums. The highest prevalence is among the marginalized such as tribals, indigenous people or gypsies.

Accomplishments
OpASHA's model has been replicated in Uganda by the Millennium Villages and Columbia University, Earth Institute. They are also using OpASHA's eCompliance technology in Kenya, Peru, Dominican Republic, Tanzania and Afghanistan.
Achievement of very low default of up to 3.1% in TB treatment. Treatment success rate goes up to 88.3%.
OpASHA increases detection rate of TB by 50-400% within 6-18 months of starting work in any area.
75719 patients of normal/ DST TB, 366 patients of MDR TB have been enrolled, one patient of XDR has been treated and three patients of XDR are under treatment.
Elimination of out of pocket expenses for patients by door-step delivery of services including collection of samples
24 Female TB patients were provided vocational training to prevent them from being abandoned by families.
342 Haemophilia patients detected and started on treatment
10,000 TB patients were tested for diabetes. Those who tested positive are being linked with physicians & trained to manage diabetes successfully in a market sustainable way
195 disadvantaged persons have been provided dignified work.