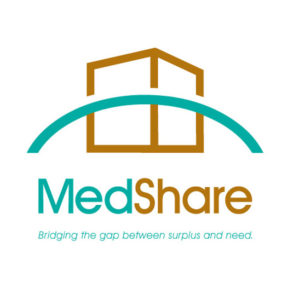 Primary Area of Impact: Healthcare
Geographic Areas Served: 88 developing countries globally
Year Founded: 1998
Overview
MedShare bridges the gap between surplus and needs to improve healthcare and the environment through the efficient recovery and redistribution of surplus medical supplies and equipment to those most in need. MedShare collects surplus medical supplies and equipment from hospitals, distributors, and manufacturers, and then redistribute it to qualified healthcare facilities in the developing world. MedShare also outfits medical missions and safety net clinics in both the U.S. and abroad. MedShare's shipments save lives and improve access to quality healthcare in some of the most remote, impoverished places in the world. To date, the organization has shipped to 88 economically developing countries with plans to ship to many more.
Social Challenge
In the most desperate and medically underserved countries in the world, children and adults suffer and die every day because their doctors, hospitals and clinics, if they exist, do not have the necessary supplies and equipment to treat them.  According to the World Health Organization, in the developing world, more than 10 million children under the age of five die each year due to inadequate medical care.  Potentially life-saving surgeries are canceled because there are no sutures.  Hospitals are overcrowded and patients often lay three to a bed because there is a shortage.  Doctors wash, patch and reuse exam gloves or use plastic bags as exam gloves to protect themselves from diseases like AIDS.  At the same time, U.S. hospitals discard an estimated $6.5 billion of medical supplies and equipment each year, much of which is a useable surplus that could save lives; but, due to technological change, regulatory requirements, production overages, and procedural excess, it is sent to landfills.
Through our innovative hospital recovery program that is a leader in the industry, MedShare offers healthcare facilities a unique opportunity to divert this surplus from landfills and make it available to hospitals with demonstrated need in the developing world, as well equipping medical mission teams and safety net health clinics in the communities we serve.  MedShare recovers surplus supplies and equipment each month through barrel collection programs with hospital partners. These collections are made up of unused, quality medical supplies, unable to be utilized by healthcare facilities.  These supplies are sorted and reviewed for quality control by more than 15,000 trained volunteers annually, reviewed for quality control by MedShare staff, and then made available via our online inventory, where recipients in medically-underserved areas are able to order box-by-box exactly what they need.  MedShare also receives quality, working biomedical equipment from individual donations and hospitals as upgrades are made.  Instead of this costly equipment being disposed of in landfills, MedShare's biomedical engineer staff works to repair and make this technology available to recipients whose access to such expensive equipment is limited.

Accomplishments
Since being named a finalist for the 2012 Lipman Family Prize, MedShare has continued to bridge the gap between medical surplus and need. Highlighted successes for 2012-2013 include:
As part of its partnership with Wharton, MedShare will begin work with a Field Application Project in which a team of 5-6 MBA students will explore the viability of global expansion as MedShare works to enhance its model in regions including Central America, East Africa, West Africa, and Southeast Asia. In addition, Chuck Haupt, Executive Director of MedShare's Western Region attended a Wharton Executive Education class in October of 2012.
MedShare now ships medical supplies to 93 countries (an increase of 5 since 2012) through the help of 17,000 annual volunteers.
MedShare's Board of Trustees approved the signing of a 6-year lease for an expanded facility in Northern California to keep up with demand for increased services from MedShare's Western Region Distribution Center.
In July 2012, MedShare announced a partnership with MAP International. MedShare and MAP will support and enhance one another through joint container projects that will include MedShare consumables and MAP pharmaceuticals.
MedShare was named as a regional finalist in the CLASSY Awards. The CLASSY Awards is the largest philanthropic awards ceremony in the country, celebrating the greatest charitable achievements by nonprofit organizations, socially conscious businesses, and individuals worldwide.
MedShare was selected to receive Acterra's 2012 Business Environmental Award. Acterra's Business Environmental Awards are one of the San Francisco Bay area's oldest and most prestigious environmental recognition programs.