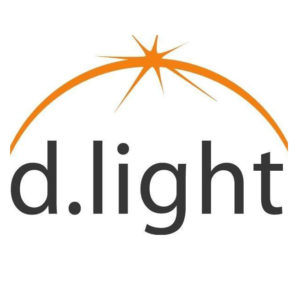 Primary Area of Impact: Environmental Sustainability
Geographic Areas Served: Africa, Asia, India, North, and South America
Year Founded: 2006
Website: www.dlight.com
Overview
d.light is a for-profit social enterprise whose purpose is to create new freedoms for customers without access to reliable power so they can enjoy a brighter future. d.light designs, manufactures, and distributes solar light and power products throughout the developing world. They aim to transform the lives of at least 100 million people by 2020. d.light serves over 40 countries, through over 6,000 retail outlets, 10 field offices, and four regional hubs. The company employs over 200 people, directly and indirectly, employs hundreds more worldwide.
Social Challenge
d.light is determined to work towards the elimination of all kerosene lanterns, which are hazardous to individual, household and environmental health and extremely expensive over time. To this end, the company delivers affordable solar-powered solutions to the developing world. With 2.3 billion people in the world without reliable electricity, the market and the challenge is enormous.
By 2030, it is estimated that 1.3 billion people worldwide will remain un-electrified. A lack of reliable lighting limits the productivity of nearly a quarter of the world's population, hindering their ability to carry out basic activities at night or in the early morning, including household chores, reading and completing schoolwork, and conducting business. This global lighting crisis increasingly separates those with reliable lighting from those who lack it, further leaving a substantial proportion of the world's population behind.
The health implications of fuel-based lighting are three-fold: respiratory illness from indoor air pollution, risk of eyesight deterioration, and risk of injury or death from fires. Research has shown that exposure to kerosene fumes causes serious health issues, including asthma, bronchitis, tuberculosis, heart disease and lung cancer. In addition, the danger of fire with its ensuing risk to life and property is substantial.
Environmental damage from kerosene lighting has been estimated at releasing 190 million metric tons of CO2 into the atmosphere annually, which is the equivalent of 30 million cars.
d.light Executive Summary
An executive summary was written by three student fellows of the Lipman Family Prize with faculty oversight as an effort to capture the field experiences of d. light staff and stakeholders to provide a rich narrative of d.light's work in India.
Accomplishments
d.light has empowered 28,028,044 lives and 7,007,011 school-aged children have been reached with solar lighting.
d.light has saved its customers $874 million in energy-related expenditures; generated over 8 billion new productive hours for study and work; produced 35 million renewable kilowatt hours, and off-set 2 million tons of CO2 equivalent.
In India, a study focused on education-related impacts found that 97% of students using d.light S1 lanterns reported increased study time which resulted in a tripling of the percentage of students receiving first and second division scores.
d.light publicly share its ongoing progress on key metrics via d.light's Social Impact Dashboard.
Looking longer-term, d.light Designs is seeking opportunities for third-party research with best-in-class partners in order to measure harder-to-attribute impacts such as increased income through rigorous experimental and quasi-experimental research.