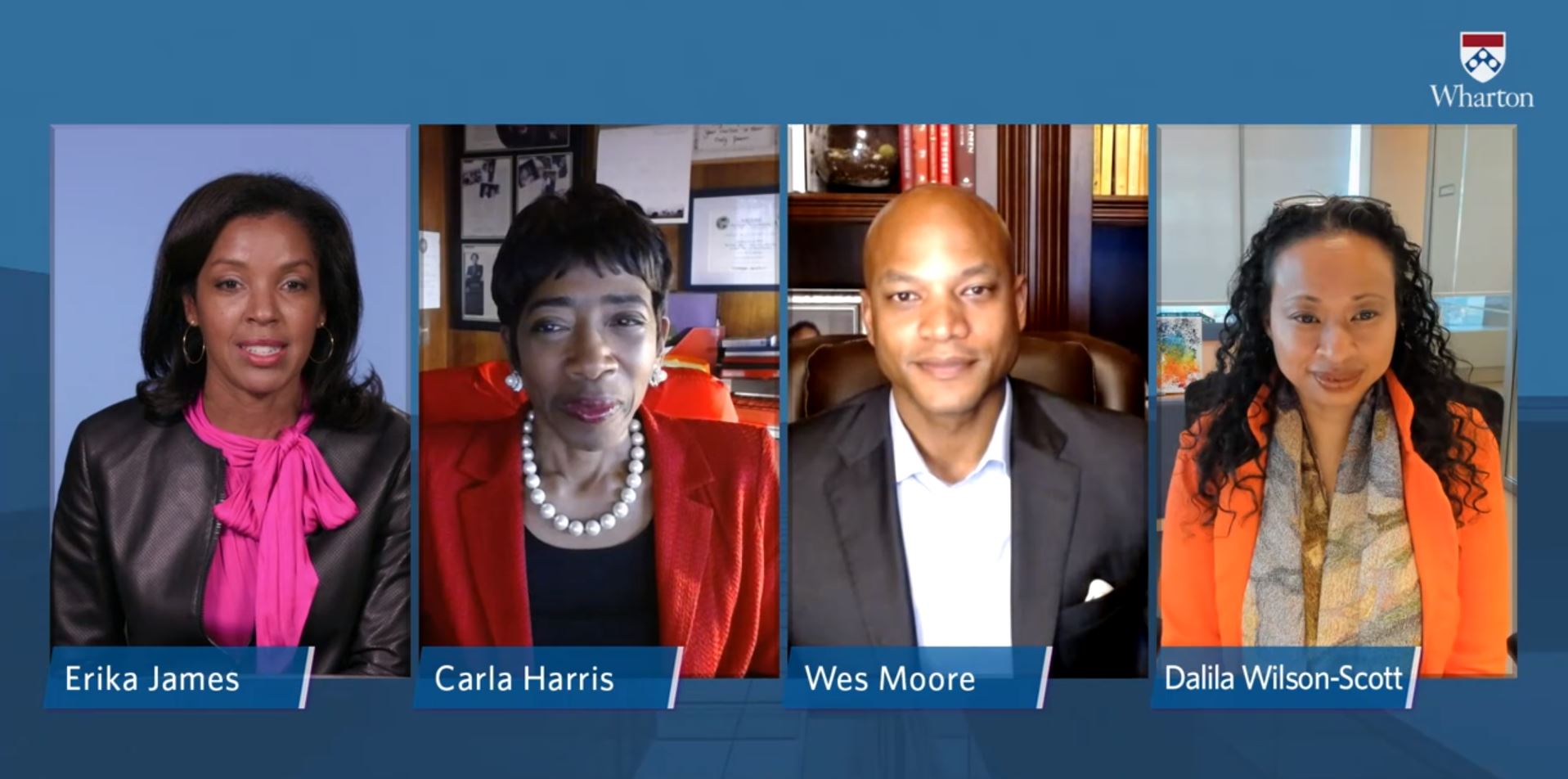 by Michael Nelson, WG '22, Lipman Fellow 2021
Dean Erika James leads a panel discussion on the impact of corporate America's increased investment in fighting racial inequality with Carla Harris, Wes Moore, Dalila Wilson-Scott, and the Center for High Impact Philanthropy's Katherina Rosqueta WG'01.
Race continues to play a critical role in business as both a barrier to equality and an opportunity for commercial growth and societal impact. American corporations have invested billions of dollars in addressing systemic racism writ large and furthering diversity, equity, and inclusion (DE&I) initiatives. Dean Erika James of The Wharton School led a panel discussion with leaders at the forefront of this movement. Katherina Rosqueta WG '01, the Center for High Impact Philanthropy's Founding Executive Director, joined to moderate the Q&A discussion.
An expansion of the Tarnopol Dean's Lecture Series, Beyond Business is an ongoing conversation that will explore the most complex and pressing issues impacting individuals and organizations across the world.
Panelists
Carla Harris, Vice Chairman and Managing Director at Morgan Stanley
Wes Moore, CEO of the Robin Hood Foundation
Dalila Wilson-Scott, EVP and Chief Diversity Officer at Comcast
Here are highlights from their conversation, available in full here as a free LinkedIn event.
1. Corporations are embracing their role as change makers in achieving racial equity and social justice, but navigating the path requires consistent effort to overcome previous and existing biases.
"We are watching corporations that really are leading in heroic and unprecedented ways. [Saying] this is not simply about increasing our Corporate Social Responsibility nor making our Instagram page black. This is about looking at the real roots and how we use every single lever at our disposal in corporate America and philanthropy [to] address the issues of employment, equity and fairness, the black wealth gap that we have in this country – a 10 to 1 wealth gap". – Wes Moore
2. Racial equity is no longer seen as a moral philosophy – inclusion is necessary to drive current and future profitability.
"It used to be the case that companies had three constituents – the shareholders, the employees, and the customers. […] Your shareholders could sell your stock, your employees could quit, and your customers could vote with their feet. […] Now there is a fourth constituent called community, and it has a powerful tool called social media. […] Within seconds you can have massive brand degradation and lose a billion dollars of market cap." – Carla Harris
3. Data and technology are critical to tracking and enabling progress, although they are not immune to bias and misuse.
 "Because technology is involved, we can convince ourselves of some magic objectivity. […] We have to elevate the conversation so that people understand that just because technology is involved, that does not clean the data." – Carla Harris
4. The injustices we see in today's media should not be separated from their systemic roots.
 "We did not just arrive at this moment. We are talking about centuries of injustices, and many Blacks in corporate America have to live in a duality to be successful." – Dalila Wilson-Scott
5. Cross-sector collaboration creates innovative programs to further racial and social justice inclusion efforts.
"Not too long ago, [Comcast] had our first company wide Diversity, Equity, and Inclusion Day. That brought together 50,000 employees and counting into a shared experience. They heard from our CEO to talk about implicit bias, and he did it in a way that brought science and real life situations so that regardless of the perspective you bring to the table, you could be more respectful of other perspectives and how it impacts our work." – Dalila Wilson-Scott
The recent wave of protests in response to attacks on Black Americans brought attention to the breadth and depth of racial injustice in our country, and the need for a national dialogue. Beyond Business will use its inaugural, 3-part series to shine a light on how systemic racism impacts business and society as a whole, and ways it can be confronted. From C-suite diversity and corporate philanthropy to the role of Black culture in marketing and the impact of systemic racism on Black entrepreneurs — panelists will unpack the issues and provide their insights on how business and organizations can effect change.
To learn more about Beyond Business series, please click HERE.