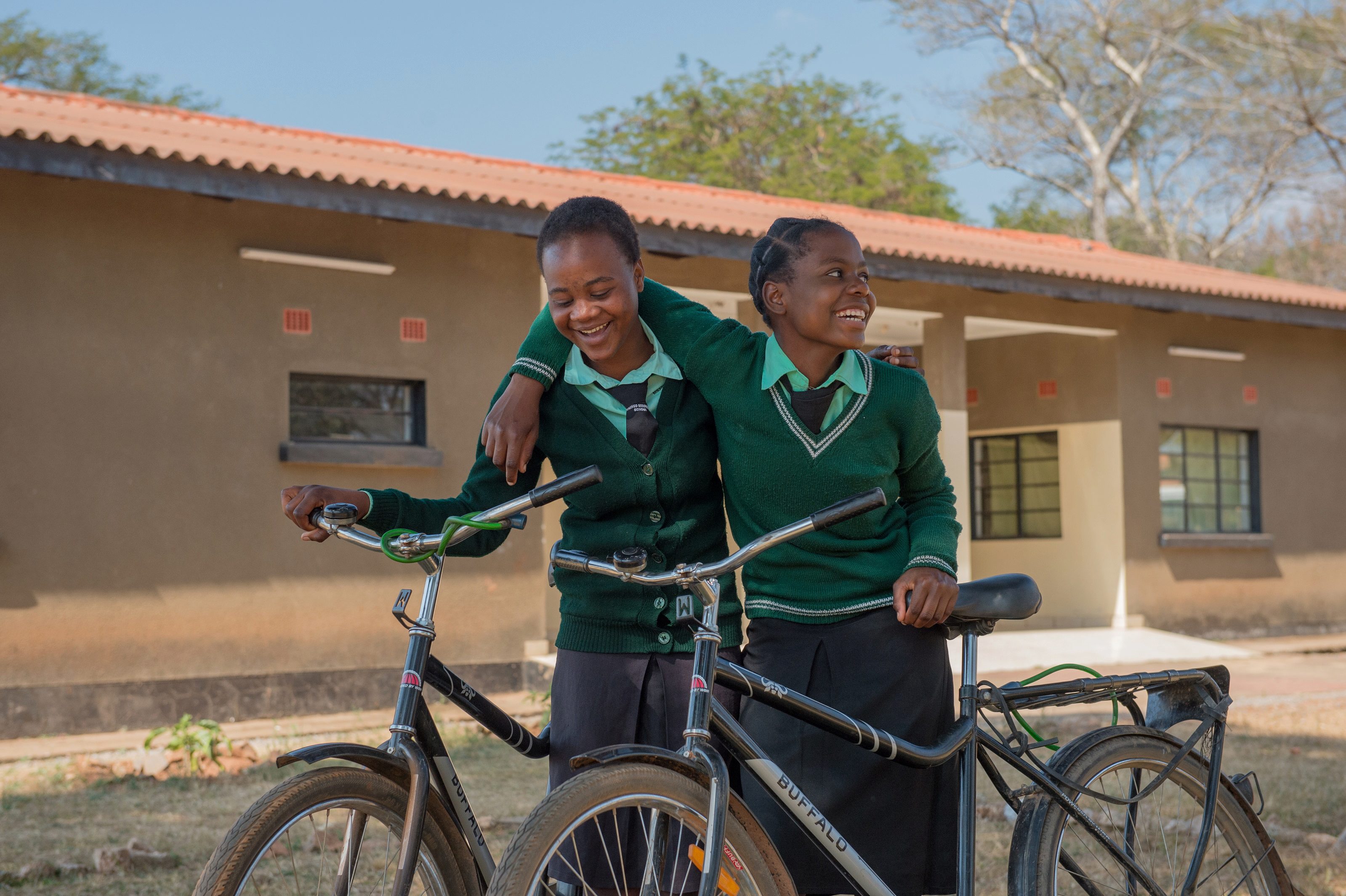 This article examines the empowering use of bicycles of Lipman winner, World Bicycle Relief. – Written by Renée Alexander of LightBox Collaborative
For kids in America, a bicycle represents freedom and fun. But for girls like Belita in rural Africa, a bicycle brings empowerment.
Like many children in Zambia, Belita is an orphan with limited resources. Her father passed away when she was an infant, and her mother left the village in search of gainful employment in Lusaka, the capital city. She never returned, leaving Belita in the care of her grandmother, Mushimbei. Chronic leg pain makes it difficult for Mushimbei to carry the vegetables they grow to the market, where she sells them to buy maize to make nshima, the staple food of most Zambians.
Before receiving her Buffalo Bicycle from World Bicycle Relief, 14-year-old Belita wasn't able to help her grandmother with morning household chores. She awoke before dawn to walk 5km to school from Chuungu village, where she lives. Even then, she struggled to arrive on time and was often punished for tardiness. After a long walk home after class, she had only enough time to eat, help her grandmother with evening chores, and – if time allowed – complete her homework before starting again the next day.
That all changed when she was chosen to receive a bicycle by World Bicycle Relief's Bicycle Education Empowerment Program. BEEP seeks out students like Belita in remote African villages who need access to reliable, quick transportation. Seventy percent of student recipients are girls, who typically have no social status in their homes or communities and who carry a heavier burden of household chores. In exchange for the bike, families commit to keeping the student in school and allowing them to use the bicycle to get there. Belita's Buffalo Bicycle not only cuts down on her commute time, it allows her to help more with household chores, haul vegetables to nearby villages to sell, and carry maize to the mill to be ground into nshima. When Mushimbei fell ill, Belita was able to take her to the medical clinic on the bicycle. Having a bicycle has brought Belita's dreams to provide for her and her grandmother within reach. She says it represents much more than transportation: "The bike is like our family member since we are only the two of us."
Belita is just one of more than 125,000 students to receive bicycles through the BEEP program, which is World Bicycle Relief's flagship program, according to Andrew Batchelor, Institutional Markets Leader for the Chicago-based non-profit. He says their female focus stems from the fact that keeping girls in school has been shown to have a multiplier effect that can help break the cycle of poverty. "Having a bicycle increases student attendance by 28% and boosts academic performance as much as 59%," he says. "Furthermore, girls who stay in school are six times less likely to be married as children."
Beyond supporting students, World Bicycle Relief provides economic empowerment to farmers and entrepreneurs, who can carry five times more goods to market on their ultra-sturdy Buffalo Bicycles than on foot. These bicycles – assembled locally and designed specifically for rugged terrain in remote areas with limited resources – also allow healthcare workers like Royce to pedal four times farther than they can walk and save three hours of travel time for every ten miles covered, which means they can visit more patients daily, increasing the quality of health for entire communities. In addition, World Bicycle Relief trains local villagers like Mary to be field mechanics, providing them with a source of income and community respect. In larger cities, the organization opens social enterprise retail stores that sell and service Buffalo Bikes and stock replacement parts. All proceeds from the social enterprise's sales are directed into World Bicycle Relief's philanthropic activities.
The organization was launched in 2005 by FK Day, the co-founder of Chicago-based SRAM Corporation, a successful bicycle components manufacturing company. Prompted by the devastating 2004 tsunami in the Indian Ocean, FK and his wife Leah formed World Bicycle Relief and partnered with local organizations in Sri Lanka to distribute more than 24,000 bicycles to displaced survivors, providing access to education, healthcare and livelihoods while reconnecting entire communities. Based on that success, they were invited to partner with a large-scale USAID-funded health program in Zambia that trained and equipped community healthcare workers to help combat the AIDS epidemic. In 2006, they provided more than 23,000 bicycles through this program to support volunteers who would walk long distances to provide home-based care.
Since then, World Bicycle Relief has distributed nearly 450,000 bicycles in 20 countries and opened fundraising offices in six countries. In 2017 alone, the organization deployed more than 54,000 bicycles and trained more than 200 mechanics in nine countries. Funding comes from both donations and bicycle sales, making their financial model innovative, sustainable and scalable.
Besides using Lipman Family Prize's unrestricted funds to boost their philanthropic work, Batchelor says he looks forward to learning from other members of the Prize community. "We are particularly intrigued by myAgro's layaway model for our retail stores, because not everyone can afford to buy a $140 bicycle outright. Cell-phone based micro-payment plans might be ideal for this purpose, so we want to learn more about that model."